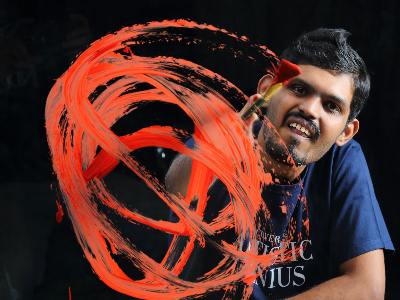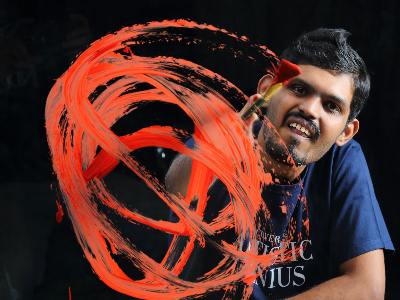 COMMISSIONING ARTWORKS
Abstract Art
Painting
Art
Modern Art
Contemporary Art
Calendar
Tote Bag
Coffee Mug
Tee Shirt
Rupak Munje 25, born with autism, is growing holistically in the hands of CanBridge Chennai where he is being groomed to be a star performer. Rupak has come a long way despite struggling in every aspect of life, especially being a non-verbal person, he expresses himself through abstract paintings. H... See More
Short Bio
Rupak Munje 25, born with autism, is growing holistically in the hands of CanBridge Chennai where he is being groomed to be a star performer. Rupak has come a long way despite struggling in every aspect of life, especially being a non-verbal person, he expresses himself through abstract paintings. He started his training under American art therapist, Melissa Enderle and since then, has been mentored by his father Rajendra Munje. He has created more than 200 paintings, 38 shows in art galleries and online galleries. Master Strokes: Outsider Art in association with Kochi Biennale Foundation selected Rupak's painting for the 2018 Exhibition. Chennai Rail Museum showcased Rupak's paintings and honored him with memento at Art Camp 7, 2018. Art Bengaluru 2019 showcased Rupak's artworks with renowned Indian and International artists at UB City by Sublime Galleria. He is one of the winners of STIR UP 2020 International competition and was selected Artist of Virtual Symposium 2020by Geneva Centre for Autism. India's biggest online art contest ORA 2020 by Mojarto honored Rupak with the Rising Star Award. Bose Krishnamachari the founder member and President of Kochi-Muziris Biennale selected 5 paintings of Rupak for Outsider Art 2018, eCAPA 2019 and eCAPA 2020 Art Shows.
Talent at a Glance
Tags
Abstract Art
Painting
Art
Modern Art
Contemporary Art
Calendar
Tote Bag
Coffee Mug
Tee Shirt
Disability
Autism Spectrum Disorder
Address
B1 Anmol Andal, 20 Ranjith Road, Kotturpuram, Chennai 600085
Reviews
No reviews.
---
Submit Review