Atypical Advantage is India's largest inclusive platform to generate livelihood for persons with disabilities 'A single good intention can set history in motion. Similarly, Atypical Advantage was born from the sole desire of empowering Persons with Disabilities and getting them the opportunities that they truly deserve. We went live on 11th December 2020 and have been organically growing (in love, size and revenues) ever since. With our platform anyone can Hire individuals, Book performing Artists , Buy Artwork, Avail Services, Shop at our store or Volunteer. Every time anyone takes a step further with us, we get closer to the ultimate goal of creating more equitable world for Persons with disabilities.
VISION

To generate and develop livelihood opportunities for individuals with disabilities by showcasing their talent and not their disability.
APPROACH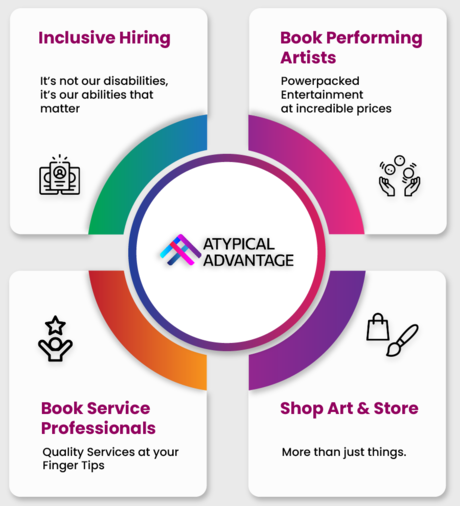 OUR JOURNEY

Having tried to hire a voice over artist and a model with disability out of curiosity for a leading corporate and struggling to find anything, Vineet envisaged a platform where anyone with disability can showcase their talent and everyone can hire them. He was contemplating on the immense employment it could generate and bring a radical shift in mindsets. And this labor of love has turned into a reality with any person with disability in any part of the country having talent can sign up to gain livelihood. Vineet urges corporates, individuals and agencies to look at the talent first and then their Disability.
Meet the team
Vineet Saraiwala
Founder & CEO
Vineet Saraiwala has transformed how people with disabilities shop across India through pioneering concepts like 'Sabke Liye'. He has pursued his post graduation from Indian Institute of Management, Bangalore (IIMB) and strongly believes that generation of compassion is the only way to make the world a better place. He is also an avid trekker, marathoner, endurance cyclist and a lifelong volunteer. His Ladakh Marathon story was showcased as a Documentary titled 'Blind people run too' highlighting the abilities of people with disabilities. He has cycled over 5000 km in his tandem bike and is on a mission to transform lives for people with disabilities (PWD) in fundamental ways. He is in gratitude to his brother Anuj for supporting him to make this vision possible.
Merry Barua
Advisory Board
Merry is the Director of Action For Autism, National Centre for Autism, India. She is an activist, writer, educator and trainer who pioneered the Autism movement in India. She started the first autism specialist school, initiated the first teacher training course, started the journal Autism Network, facilitated the start of services across South Asia, and helped catalyze legislative changes that include autism. Merry has been instrumental in the training of several thousand parents and professionals. She advocates for the rights of persons with autism in education, employment, recreation, among others, as equal citizens of the country. Merry is an Ashoka Fellow, and has received national and international recognition for her work.
Rohan Bhansali
Advisory Board
Rohan, investment banker turned entrepreneur, is the Co-Founder & Director of Gozoop - India's largest independent digital agency with presence in India and UAE. Rohan is best known for cultivating a great work environment at Gozoop, which holds a record for the youngest company to feature on the list of India's Best Companies to Work For as curated by Great Place to Work Institute. Inspired by the book Banker to The Poor by Professor Yunus and a meeting with Nipun Mehta of Service Space, Rohan started the 1SmallStep Foundation - a social business incubator. Through 1SmallStep, Rohan invests in and mentors social businesses that solve social problems mainly focusing on child education and employment.
Sadashiv Nayak
Advisory Board
Sadashiv is CEO of Big Bazaar. Prior to Future group he has worked with Hindustan Unilever and Asian Paints. Sadashiv graduated Engineering from NIT, Surathkal and completed his post-graduation in Business Management from XLRI Jamshedpur. He stays in Mumbai with his wife Radhika and twin sons. He played a instrumental role in making shopping accessible to millions of Persons with Disabilities (PWD) across the country.
Shishir Joshi
Advisory Board
Shishir Joshi is the Founder and Chief Executive of Project Mumbai, a not for profit. In July 2020, the United Nations awarded Project Mumbai with the Social Development Goal (SDG) Solidarity Action Award 2020 in recognition of the humanitarian contribution to the fight against COVID 19. Only fifty organisations have been bestowed with this honour globally and Project Mumbai being one of them. The organisation goes by the tagline Mumbai Ke Liye Kuchh bhi Karega and drives change at scale.
Sangeeta Isvaran
Advisory Board
Sangeeta Isvaran, Co-Founder of the Wind Dancers Trust and the Katradi Initiative is a performer-activist who has performed, taught and worked across more than 45 countries with many marginalized communities, such as sex workers, street children, refugees, indigenous communities, landmine victims, people with disabilities, caste and religious conflict and so on. Recipient of many international awards and fellowships (Asian Scholarship Foundation, Asia-Europe Foundation, Prix de la Creation - Enghien-les-Bains), she has received the highest national award for young artists - the Bismillah Khan Yuva Puraskar. Creator of the Katradi Method of Empathy Based Social Transformation, Sangeeta is also a Fellow of the International Institute of Conciliation, USA and a Honorary Associate of the Nature Conservation Foundation, India.
Meera Shenoy
Advisory Board
Meera Shenoy is the Founder-CEO, Youth4Jobs, which focuses on mainstreaming youth with disabilities in education and the workplace. The work is challenging but transformational. The work has won several national and international awards. Her inspirational book 'You Can', a Bloomsbury publication was released at the Jaipur Literary festival and is in its third edition. Meera Shenoy does national and international workshops on inclusion around this book. She also runs a portal called Not Just Art which showcases work of artists with disability and has an annual 'Ability' art award with UNESCO. This work will now be done with Atypical Advantage.
Akhilesh Bhargava
Advisory Board
Akhilesh Bhargava is a Business Editor - HW News Network, Chartered Accountant and Economist, Columnist and Author. With strong opinions and takes on things, he believes in raising his voice against injustices and disseminating honest information about things that matter.
Nipun Malhotra
Advisory Board
Nipun Malhotra is the Co-Founder and CEO of the Nipman Foundation that works in the areas of health and advocacy for Persons with Disabilities. He is a visiting Research Fellow at World Enabled, a Pineda Foundation initiative. He is the Founder Chair of the FICCI D&I Working Group on Empowering Persons with Disability, a member of the CII National Committee on Special Abilities that promotes inclusion of Persons with Disabilities in the corporate sector. Nipun is an alumnus of St. Stephen's College, Delhi School of Economics and the Indian School of Business.
Revati Sharma Singh
Advisory Board
Revati Sharma Singh is an autodidact artist based between London and India. The language of food, the powerful struggle of the planet's reproductive abilities under siege from a surging population, are all at the core of Revati Singh Sharma's work. She brings into sharp relief the constant tussle between nature and humanity, the ongoing rigour of natural produce with human mismanagement and greed. Vibrant, vivid and replete with her voice, it is livid in her refusal to accept that art cannot indeed change the world. For the last 20 years she has supported multiple organisations both financially and with her time and expertise. This year, she has set up The Barkhat Art Foundation, with the intention of supporting young women creative practitioners who place at land, nature, care, wellbeing and nurture as the centre of their practice.
Sharon Ann Sundas
Head - Operations
Sharon is a graduate of St. Xavier's College, Kolkata and is a sportsperson, through and through. She is a footballer, swimmer, volleyball player, basketball player and a gym enthusiast. Her compassion, kindness and empathy is what connects her to people and is what intrigued her to work in this space. Her love for dogs has put a desire in her heart to open a dog shelter in the future. She is a lover of nature and colours which also reflects in her personality.
Komal Sharma
Head-Digital Marketing
Komal is an MBA in marketing from Nirma University, Ahmedabad. She loves all things creative and enjoys listening to people. Although, introverted, her desire to get out there and help people drives all her social interactions. She is a passionate content writer, enthusiastic marketer, and a natural aesthetician. She loves reading, meditating, and creating. Above all, she loves touching lives and discovering uniquely human stories!
Sakshi Gupta
Head - Atypical Art
Sakshi Gupta has completed her graduation in BBA. She is very enthusiastic and has a thirst for learning new things. She loves to volunteer in the social sector and wants to steer her career in the management arena. Her persuasion skills and ability to be empathetic simultaneously is a very interesting combination. She is a people's person and charms the people she meets. Her love for nature and animals is boundless and she strives to be eco-friendly.
Aman Pathak
Graphic Designer
Aman did his Graduation from IGNOU and is continuously learning on the nuances of Designing. If you interview him, you will certainly reject him because he cannot speak flashy English like the rest of us but when you would scroll through this portfolio you would be in Awe!
Vidhi Narula
Head - Content
Vidhi Narula is a 2nd year student of Journalism and Mass Communication. Residing in Delhi, she has done several internships to gather substantial professional experience. Her grasp and command over the English language is evident in her work as a content writer. She loves reading novels and watching movies and TV shows. She strongly believes in equitable distribution of opportunities to all people. Vidhi is persistently working towards honing her skills and during her journey, she makes all efforts to contribute her bit towards the society.
Divyansh Bhageria
Project Manager
Divyansh is a BTech 3rd year undergraduate, who is fond of plants and environment. He is a hardworking individual with eager to learn more. With an interest in creative writing especially poems and love for our planet, he wishes to take his work forward and make everyone become friends with nature.
Archana Rao
Head of Accelerator Programme
Archana Rao is an experienced Special Needs Educator and Trainer, with a work experience of over 20 years. As a Zonta International Awardee, Archana has always strived to work with creative, innovative ideas, that have helped the organisations and their beneficiaries in many ways. She has completed her MBA in Social Entrepreneurship from NMIMS University and connects the different stakeholders in the disability sector for proactive discussions and activity, to ensure Inclusivity in every sphere. She currently provides consultation services to various organisations, to help scale their projects, rethink and redesign. Archana's strength is in building strong bonds with members of society, without any discrimination, innovating herself through new learning processes and taking rightful action with best intention at heart. She is dynamic, works hard and enjoys what she does.
Priyanka Pengonda
Volunteer
Priyanka is a quick learner and comes with eCommerce and Operations experience. From cycling across the beaches of Goa to riding amidst the scenic Kerala frontier, she has done long distance endurance cycling. She loves traveling and trekking, and is a budding weekend baker. Vineet and Priyanka met on a cycling ride in Mumbai and became good friends for life. An occasional catch up call brought them to work together on this venture and the rest they say is work in progress.
Mudita Kejriwal
Volunteer
Mudita is a retail veteran with experience of over 8 years in category management. She pursued her MBA from Balaji institute of Modern Management, Pune. She loves travelling, baking and painting. She has started volunteering in her own little ways & hails from Varanasi.
Rimple Dedhia
Volunteer
Residing in Mumbai, Rimple is a Chartered Accountant (CA) and Compassionate Accountant (CA). She extensively works for social causes for Project Mumbai along with her full time corporate job. She always starts with a simple question, 'How could I be of service?'. She goes out of her way to rally for causes which are dear to her.
Simran Singh
Volunteer
Simran is a Marketing professional with almost half a decade of experience in the corporate world. From being part of an independent music label to working on digital campaigns for Future Group to doing exhilarating stints in the gaming world, she has done it all. It could be her curiosity or perhaps her volunteering stints for NGOs which led her to explore the world of the Atypical.
Raashi Saraiwala
Volunteer
Raashi Saraiwala is a Chartered Accountant and a 3rd level candidate of the CFA(US) Program. Prior to practicing on her own she worked with Goldman Sachs. She has completed her graduation in Finance & Accounting from St. Xavier's College, Kolkata. Besides being a workaholic, she likes to travel and binge-watch shows on Netflix. She is also compassionate and loves to extend her support to social causes like 'Dilse' and 'Atypical'.
Chinmayi Shinde
Volunteer
Chinmayi Shinde is an MBA from IIM Ahmedabad. She Has experience of Marketing and e-commerce with India's leading companies like Future Group and Piramal Healthcare. She is a fitness enthusiast who practices Zumba and Aerobics regularly. In her leisure time she enjoys travelling and trekking. She has worked with Blind People's Association Ahmedabad and underprivileged school kids in Mumbai
Saiprasad Shelke
Volunteer
Saiprasad is an IT professional having 8+ years of industry experience. He is an mechanical engineer with an MBA in Operations from Mumbai University. On weekdays he is a corporate employee and on weekends he loves to volunteer for different social causes. He first read about Atypical advantage in the newspaper which lead him to sign up as a volunteer. From there the journey started and now he is responsible for mentoring and guiding all the volunteers/interns working for Atypical Advantage. He loves to go on backpacking trips, run in marathons, reading novels and enjoys road trips too.
Volunteer with us
We are in continuous search for volunteers with passion in their hearts and rigor in their work so fill in the details & we would love to have you.
GET STARTED