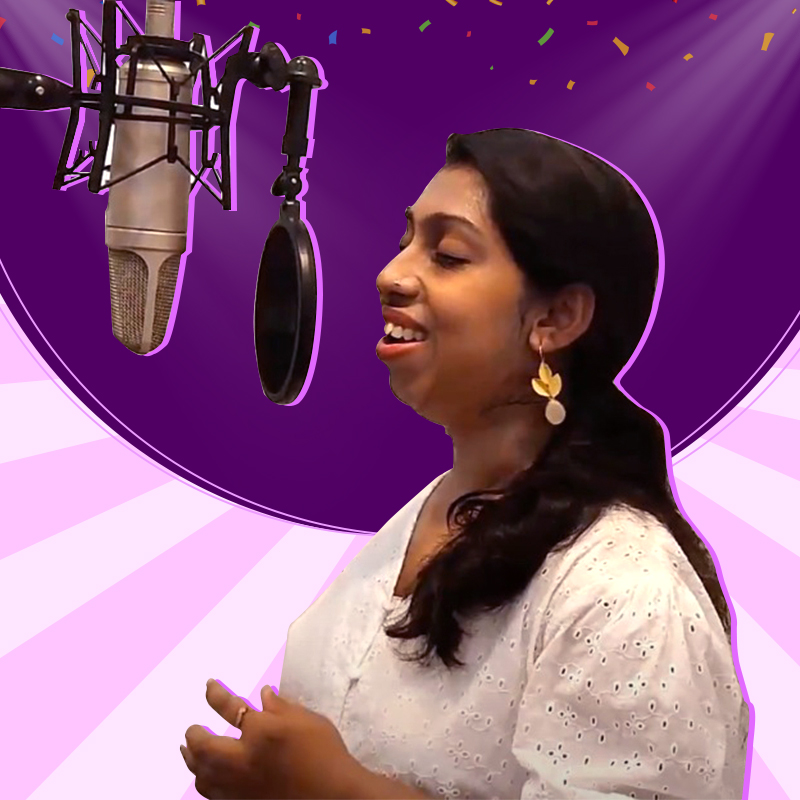 Gift a Mini Concert
Gift an exclusive & personalised concert to your employees, loved ones, children, spouse, grandparents and more.
Our concerts are not only budget-friendly but also impact driven. You can choose your song, time and day at your convenience.
Introductory price
For 15 minutes, 3 songs
Book at just INR 2,999
Currency conversion supported for international payments
How a Mini Concert Works
Share your requirements
Pick a date, share occasion, language & songs to personalize your Mini Concert. Then book it at just INR 2999.
We plan the perfect Set-Up
We get in touch with you to schedule the Mini Concert. Invite with joining link & concert details are then shared on mail.
Enjoy your Mini concert
Have a memorable experience. Get a video recording of the Concert & a certificate of appreciation too.
Interested in performing as an artist?
We'd love to have you onboard!
#ItsOurAbilitiesThatMatter
Sign Up
Why a Mini Concert is the best gift ever
Unique Experience
A one-of-a-kind experience that will be cherished by your guests for years to come.
Value for Money
This private concert by a star performer won't burn a hole in your pocket.
Support livelihood with Dignity
Directly contribute to livelihood for Artists with Disabilities so they pursue their passion.
Groove to your favourite tunes performed live, just for you and your guests
Got an event? We have live music
Performed by Artists with Disabilities. Contact us for custom solutions.
Contact us
What clients have to say
"Devansh Chandra is a delightful and gifted singer. We really enjoyed his performance at my brother's birthday party"
Jyoti
"Ankita Patel's beautiful performance made me sing along and her foot tapping music made my day"
Param
"No stage in the world is big for you with a voice like yours. Resham Talwar, you are a star, you are too good"
Tullika
"It is so inspiring to see a talent like Karthik Krishnamurthy. He inspires us to look at life in a positive way. We wish him all the best"
Bhumika
"We enjoyed and loved Shibani Ghosh's singing. I love how she smoothly transitioned from one track to another"
Kartik
"Ritwik has a soothing voice and he gave a very mesmerizing performance"
Kartik
"Navya Thomas delivered a soulful and mesmerizing performance"
Sonika
"The fusion of rap and melody by Raj was incredible. Learning about his journey was very inspiring."
Shikhar
Frequently Asked Questions
A Mini Concert is a 15 minute virtual concert, consisting of 2-3 songs, performed live for you and your guests by one of our star Performers.
You can book a Mini Concert for just INR 2999.
A Mini Concert will take place virtually via a zoom meeting invite. Invite will be shared with you post finalization of date and time. Our team will handle the 15 minute Mini Concert end-to-end.
You may have any number of guests watching with you as there is no capping on audience.
Each Mini Concert will be performed by one of our Performers with Disability. They are among the top singing talents in the country, having performed professionally on various stages.
Our Performers will be happy to sing any song you request, as long as they are familiar with it and there is time to spare within the 15 minute Mini Concert.
Of course! In the booking form, you can select options from English, Hindi, Gujarati, Kannada, Tamil and Telugu.
Yes, the invite link can be shared with your friends and family to join in for the Mini Concert. However, it should not be shared in a public forum/platform.
As per your date selection, language preference and special request our team shares with you the profile of the performer best suited for your Mini Concert. However, in the rare scenario that you are not happy with the shared profile, we will be happy to share profiles of other performers.
The booking fee of INR 2999, after finalisation of the Mini Concert date & time, is non refundable. If Atypical Advantage is not able to provide the service due to non availability of singers or any unforeseen reason, the entire amount will be refunded.
We would be happy to accommodate any kind of requirement you may have for a concert, including duration, number of performers, number of songs etc. Just share your requirement in the special request section in the booking form for Mini Concerts. Additional charges may apply as per requirement.