Home
/
Performing Artists
Performing Artists
Success Stories
Showstopper -Bombay Times Fashion Week, Model for Being Human
Among Quora's Top Writers 2013-18
Virali was hired by Accenture as a motivational speaker for their event "Celebrating Abilities Championing careers for PWD".
Part of YRF's six-pack band, sung a chorus in Raazi movie
Learning to play the guitar and harmonium
Ananya mesmerised employees of ISACA with her brilliant performance of the song from "titanic" fame, My Heart will Go On.
Has created 200+ paintings, exhibited 38 shows in art galleries
Rising Star Awardee, ORA 2020
Rupak was hired by premium menswear fashion brand, Derby as a model for one of their photoshoots.
A performer since age 13, plays the guitar and keyboard
Has his own Youtube channel
Barclays marked International Day of Disabled Persons by booking Raj to perform at their event.
Starred in an Ad film, content creator
Can do voice overs in Hindi, Marathi and English
Arvind Limited hired Sachin as an actor for one of their Ad films as part of a campaign with the message #FashionForAll
India's first model with autism, Motivational speaker
Freelances as a Graphic designer
Tata Cliq invited Pranav to deliver a motivational talk to celebrate the Autism Awareness Month with their employees.
Has won prestigious laurels, performed in multiple corporate shows
Locomotor Disability
The United Nations Development Programme booked Navya to celebrate Valentine's Day.
Has won singing competitions, sings in Hindi, Gujarati & Marathi
Considers music her pillar of strength
United Phosphorus Ltd booked her to perform live. She stunned everyone by singing 'Lal Meri Pat'.
Performed in 50+ stages, 30 venues
India Book of Records holder
To celebrate International Volunteer Day 2021, UNDP booked Divya for a live Bharatnatyam dance performance.
Stand-Up Comedian, Mimicry Artist
Great Indian Laughter Challenge Finalist
To liven up their virtual Townhall gathering, FMCG giant P&G booked Abhay, who did not disappoint by delivering jokes written specifically for the occasion.
Has won medals playing softball, dabbles in cooking
Plans to start her own Youtube channel
Tarini was the face of an Amazon disability advertisement campaign to mark Amazon Alexa's third anniversary celebrations in India.
5 time TedX speaker, special educator
Disability & Gender activist
Employees of Edelweiss Tokio Life celebrated International Women's Day by listening to Tiffany's inspiring journey.
WHY BOOK PERFORMERS FROM US?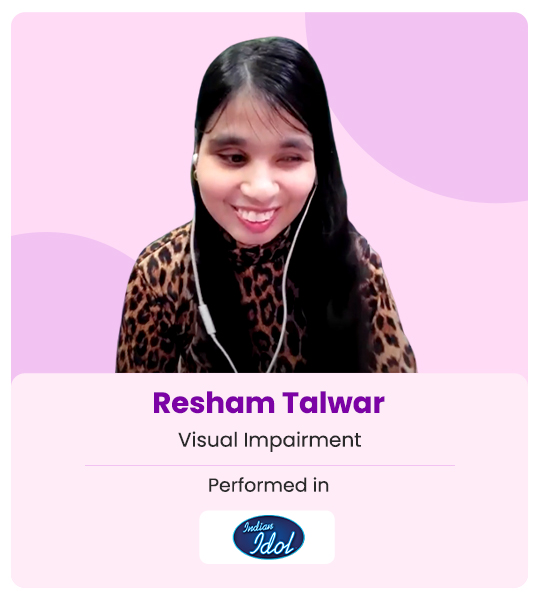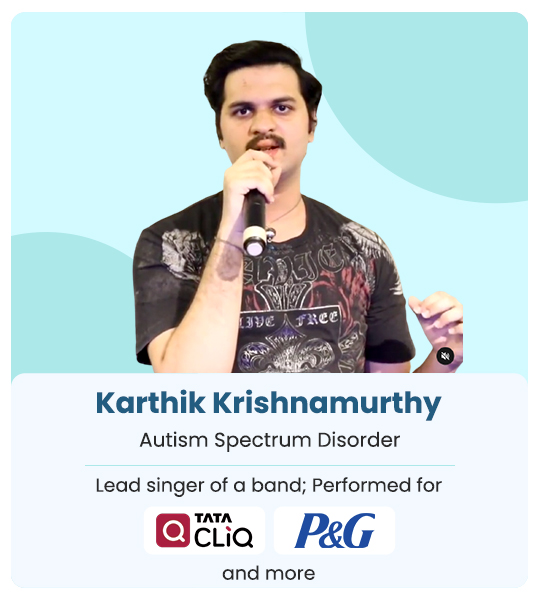 Increase your Inclusion Quotient
Phenomenal performers that will leave you inspired.
Watch Performances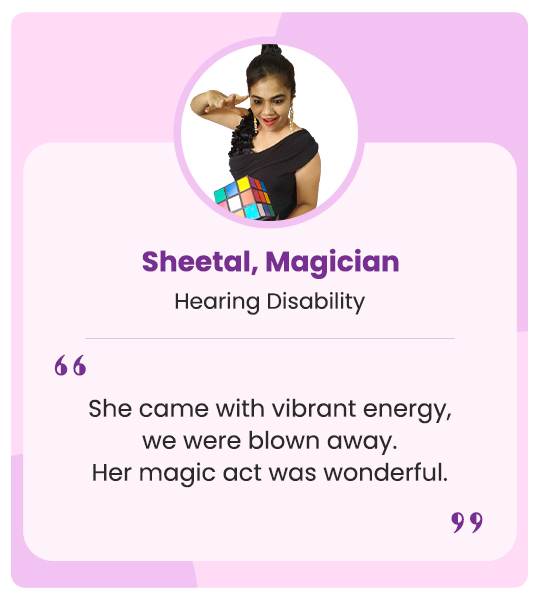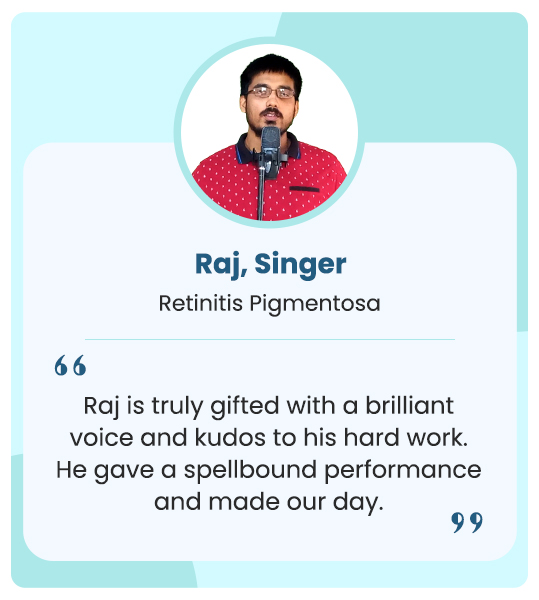 Support Livelihood with Dignity
Our performers can continue to pursue their passions.
Watch Testimonials
CATEGORIES OF PERFORMERS
Warning: Multi-talented and ready to take on the world, browsing through profiles of our Atypical Performers may leave you seriously inspired.