Home
/
Performing Artists
Performing Artists
Success Stories
Anhad, Band
Visual Impairment
Anhad was hired by ITC and Nestlé for their employee engagement event
Sweta Mantrii, Stand-Up Comedian
Locomotor Disability
Sweta was hired by Novartis, PWC, State Street, and Amdocs to sensitize their employees through comedy
Sunadha, Band
Visual Impairment
Sunadha was hired by Amazon, Accenture, 247.ai, and many more for their employee engagement events.
Shagun Pathak, Motivational speaker
Locomotor Disability
Shagun was hired by Max life insurance and C-Quel for an internal session to spread awareness and motivate employees.
Ritvik Rajan, Singer
Visual Impairment
Ritvik was hired by Sheraton, and PWC to mesmerise their audience with his performance.
Resham Talwar, Singer
Visual Impairment
Reaham was hired by Nestlé and Max Life Insurance for their internal events
Rashmi Suresh Patil, Dancer
Hearing Impairment
Rashmi was hired by Citi bank, Accenture, and Synchrony for their internal events
Karthik Krishnamurthy, Singer
Autism Spectrum Disorder
Karthik was hired by State Street to celebrate the International Day of Persons with Disabilities
Dhanya Ravi, Motivational Speaker
Locomotor Disability
Dhanya was hired by Accenture for a fireside chat for their panel discussion.
Abhay Kumar Sharma, Stand-Up Comedian
Visual Impairment
To liven up their virtual Townhall gathering, FMCG giant P&G booked Abhay, who did not disappoint by delivering jokes written specifically for the occasion.
WHY BOOK PERFORMERS FROM US?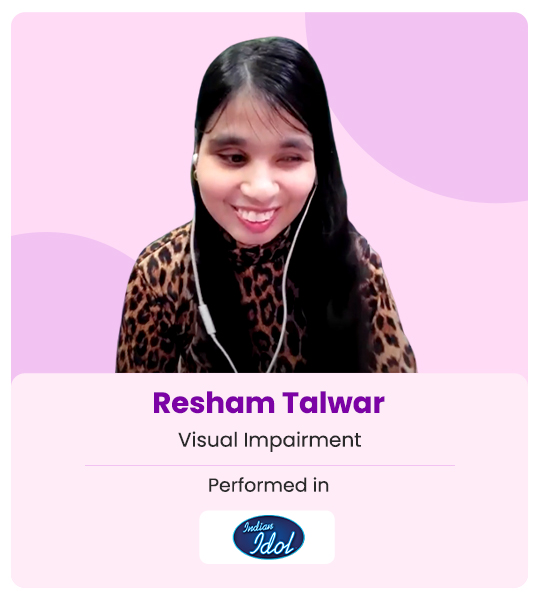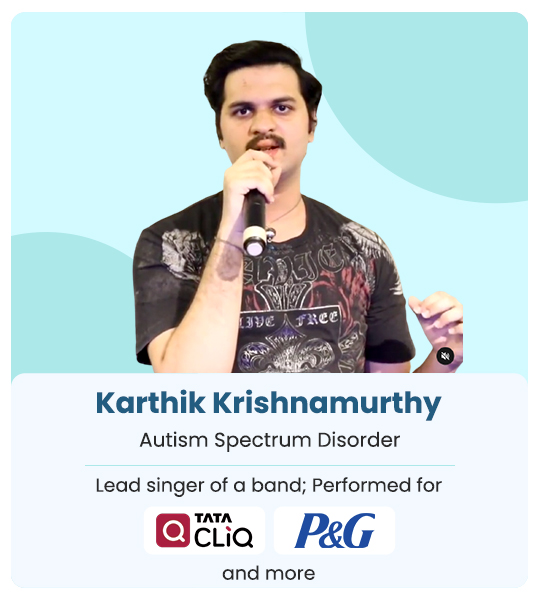 Increase your Inclusion Quotient
Phenomenal performers that will leave you inspired.
Watch Performances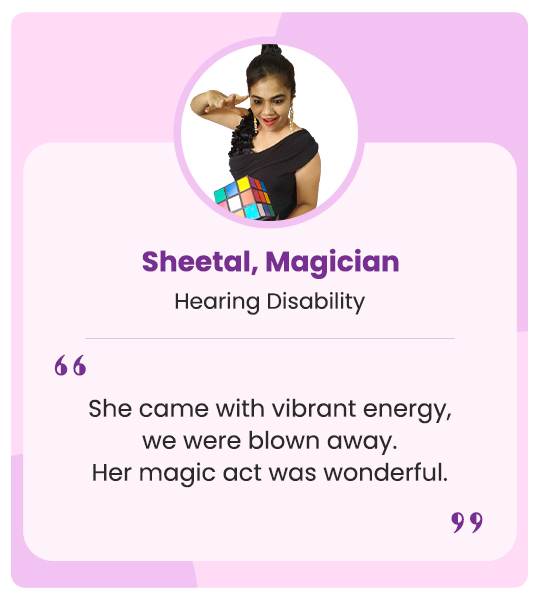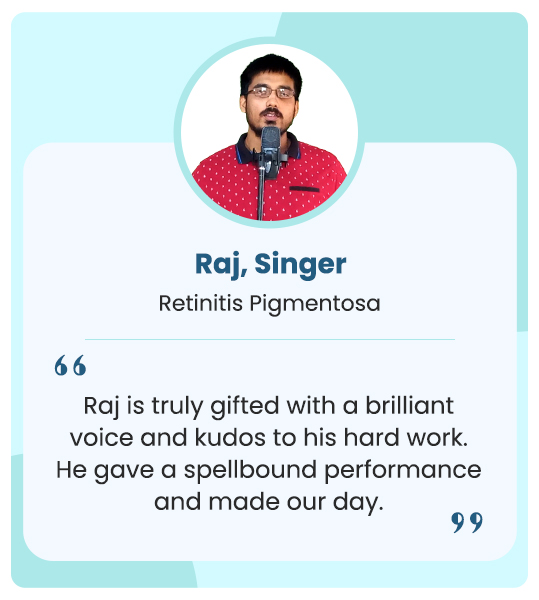 Support Livelihood with Dignity
Our performers can continue to pursue their passions.
Watch Testimonials
1,00,000+ Employees Have Been Moved With Over 100+ Corporate Shows
View Portfolio
CATEGORIES OF PERFORMERS
Warning: Multi-talented and ready to take on the world, browsing through profiles of our Atypical Performers may leave you seriously inspired.